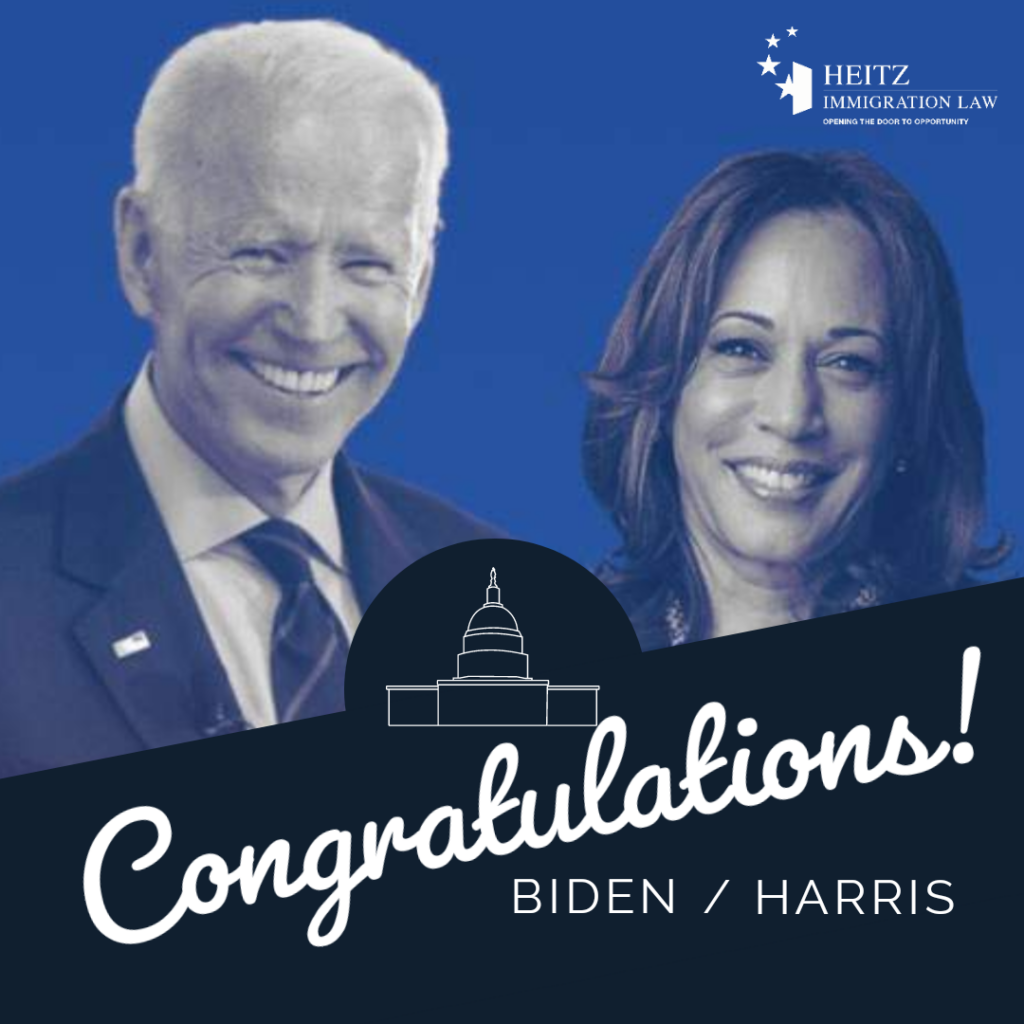 Immigration lawyers across the country are breathing a sigh of relief as we get ready to help our clients under a new Joe Biden administration. On January 20, 2021, Joe Biden and Kamala Harris will be sworn in as President and Vice President. Some serious work on immigration reform needs to be enacted and we are almost giddy at the thought of this happening. We have seen the effects that the past four years have had on our clients, how the Trump government has wreaked havoc on their lives by making it so much harder to get approved for any immigration benefits, not to mention the decimation of asylum and the uncertainty for those with DACA and TPS.
In case you were wondering what changes might take place in the near future, lets look at what Biden has promised. The first step involves undoing a number of policies that Trump enacted and then working with Congress on much needed immigration reform. Maybe this time it will finally happen.
Here are Joe Biden's plans for immigration. If you want to review the entire proposal, check it out here: https://joebiden.com/immigration/
In the first 100 days, Joe Biden will:
Reverse Trump's policy of separating parents and children at our border and prioritize the reunification of any children still separated from their parents.
End Trump's detrimental asylum policies.
End prolonged detention of immigrants and their children by investing in a case management system where immigrants can live in dignity while awaiting their court hearings.
Reverse Trump's public charge rule which has made it harder for many immigrants to qualify for a green card if they don't have a lot of money.
End spending federal dollars on building a wall at the border because it does nothing to keep us safe, instead these resources will be invested in smarter border enforcement such as better screening at ports of entry.
Allow the Dreamers to be protected by reinstating the DACA program fully and allowing Dreamers to be eligible for federal student aid, loans and grants.
Rescind the un-American "Muslim travel ban" and refugee ban because stopping Muslims from entering our country is morally wrong and has done nothing to make our nation more secure.
Review the TPS (Temporary Protected Status) program which has protected hundreds of thousands of people from having to return to countries of war and natural disasters and look at offering these people a path to citizenship through immigration reform enacted by Congress.
Go back to sensible enforcement policies instead of targeting people who have never been convicted of a serious criminal offense and who have lived, worked and contributed to our economy for decades. Instead, enforcement will be directed toward threats to public safety and national security.
Streamline and improve the Naturalization system to make it easier and faster for green card holders that qualify to become U.S. citizens and vote.
Meet with leaders from El Salvador, Guatemala, Honduras, Mexico and Canada to address the factors driving migration and to propose a resettlement solution.
Joe Biden proposes to work with Congress to pass legislation that will:
Create a path to citizenship for the nearly 11 million people who are mainly undocumented, as long as they have passed a background check and can show they are paying taxes.
Reform the visa program for temporary workers in certain industries where the labor market needs extra workers.
Reform the temporary visa system for highly skilled workers to make sure it is aligned with the labor market and not used to undermine wages.
Allow agricultural workers who have worked for years on U.S. farms to continue to work and to get on a path to legalization.
Support family reunification by allowing any approved family-based visa applicant to receive a temporary non-immigrant visa until the permanent visa is processed and allow green card holder spouses the same immediate relative status as U.S. citizen spouses when they are petitioning for their husbands, wives, and children.
Preserve the green card lottery system (diversity visa) which Trump wants to abolish, which brings up to 50,000 immigrants from underrepresented countries to the U.S. each year.
Increase the number of visas for employment-based visas, normally capped at 140,000 per year. This would allow the States to be more responsive to their own unique labor needs.
Reward foreign students of U.S. doctoral programs after they finish their studies by allowing them to get a green card instead of losing these highly trained workers.
Create a new visa category to allow cities and counties to petition for higher levels of immigrants to support their growth. This will greatly help cities in rural communities that struggle to attract a productive workforce and attract innovative entrepreneurs.
Protect American and foreign workers alike by ensuring there is no exploitation of foreign workers by unscrupulous employers who undercut the system by hiring immigrant workers at below market rates.
Expand protections for undocumented immigrants who report labor violations by using the U-visa (for a victim of a violent crime) to be expanded to victims of workplace crimes and violations. This labor law would be called the POWER Act.
Increase visas for survivors of domestic violence and remove the unacceptable delays for applications for VAWA (Violence Against Women's Act), U-visas (victims of crimes of violence), and T-visas (victims of human trafficking). The current cap of 10,000 U-visas per year would be tripled because it is insufficient to meet the current needs and thus hinders our public safety.
And if you thought that was not enough, here is more!
The goal will be to promote and establish organizations that help all residents find jobs, access English language learning opportunities, support entrepreneurs and repeal anti-immigrant state laws that drive victims and witnesses into the shadows and threaten public safety.
Joe Biden has also promised to double the number of immigration judges, court staff and interpreters, thereby working the reduce the backlog of more than one million immigration cases in the courts waiting to be heard.
Under Trump, refugees coming to the USA have been at a stand-still. Joe Biden will increase the number of refugees we welcome to the country. We cannot ask that other countries meet their humanitarian objectives if we ourselves are not upholding our democratic values.
Joe Biden understands that in order to deal with the high numbers of refugees arriving at our borders, we must work with Central American countries to solve the underlying violence, instability and lack of opportunity that is compelling people to leave.
We must work with Canada and Mexico as partners, not as adversaries so that we have better cooperation with our border neighbors which in turn results in greater security for all our countries.
Technology must be utilized at the border with there being a balance between privacy protections and improving on our cameras, sensors, large scale x-ray machines and fixed towers. Joe Biden recognizes that the U.S. has a right and duty to secure our borders and protect our people against threats. But this will not be done in a manner that promotes xenophobia or fear tactics to scare voters for political gain. Building a wall as the only solution is a waste of money!
The plan for immigration reform and border security is extensive and will involve cooperation on both sides – Democrats and Republicans alike. After all, we all want some of the same things: safety for our citizens and protection from national security threats to our country. But if anything, the recent election with 70 million people voting for Trump have shown us that there are many people that do not want these things proposed by Biden. They do not want more immigrants becoming legalized in the U.S.A. They do not want to take in refugees, they do not want an expedited system for Naturalization so that more people can vote, they do not want highly skilled immigrants or immigrant farm workers to work in the USA on a temporary basis, they do not want foreign students to remain in the USA once they graduate, they do not want immigrant victims of crimes to be rewarded with a visa if they come forward to report the crime, they do not want immigrant families to be reunited with their loved ones from overseas, and they certainly do not want migrant children to be reunited with their parents. If they did want any of these things, then 70 million voters in the USA would not have voted for Trump.
But the people of this country have spoken and 74 million voted for Joe Biden. We have a lot to do to overcome the objections we will face by the opposers of immigration reform. So, like Kamala Harris said, "let's get to work!"